Owner and Stylist: CHRISTINA EFSTATIOU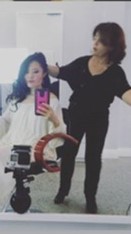 Always ahead of the curve, Christina offers nothing but first-class advice on how to care for your hair – acting as a true professional hair designer. Her love of hair dedicates her to help you find the perfect cut, color, and treatment to give you the confidence you deserve. With a European background, training, and years of on-going education, she is experienced in all aspects of the industry.
While some salons have separate colorists and stylists, Christina has the talent to do both. That is the concept. She is an artist, and like a true artist, she completes the entire job from start to finish. Not all treatments work for every individual; Christina is here for you to help you learn how to work with your hair and not against it.
Whether your appointment is with Christina or with one of her trained stylists, you can be assured that you will receive nothing but the best!